Companies are looking for low-cost and creative employee recognition ideas and peer-recognition can be one of the most effective ways to thank employees and keep them engaged.  Here is why you need peer-recognition more than ever.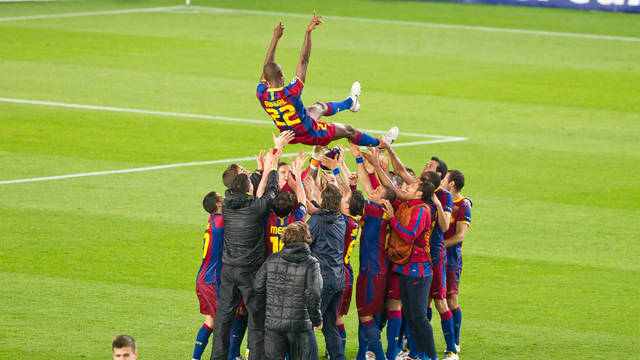 Power to the people!
The era of top-down management is changing.  Successful companies are empowering employees to make decisions and take action.  Yet in many companies employee recognition and awards are still determined at the top.  Relatively few companies provide peer-based recognition.  We define peer-based recognition as a program that allows employees to nominate, vote, award or thank a fellow co-worker in front of an audience or group.  We have interviewed over 40 executives at Fortune 500 companies, hyper-growth start-ups and industry leaders to get their best practices on building a successful company culture.  Based on this research and our analysis, here are the top 5 reasons you need peer-based recognition at your company:
1.   Recognize as a team to win as a team.  A very senior ad sales executive we interviewed encouraged his team to give praise to others in engineering, accounting and product.  As a frequent flyer he realized he couldn't fire up the team on his own and enlisted his team to give praise and create strong inter-department relations.  He added, "having the extra set of eyes, ears, and hands really helped move our culture to the next level… I unleashed the beast of appreciation! ".  Giving more people the power to give praise helps build a culture of recognition.
2. Silent but deadly.   Many companies have quiet superstars who are always heads-down and delivering spectacular behind-the-scenes results.  "Every where I have worked there has always been the strong silent type who didn't make a lot of noise but always over-delivers", said a very experienced account manager.   "It's more important for me to see the right people get recognition, I depend on these superstars and wouldn't want to lose them".
3.  No more straight lines.    It is difficult for managers to always know who to recognize in highly matrixed organizations and cross-functional teams.   Peers can have a better sense of who is really over-performing and making significant contributions on a team.   The head of a design department mentioned that she had dispersed her team to sit with the cross-functional teams they worked on to create quicker and more responsive design support.  This took her out of some of the day to day interactions so she spent a lot of time getting feedback with the team leads.  She felt that peer-based recognition would help create a spirit of team work and help her keep in touch with how her direct reports were performing with their cross-functional teams.
4.  Act like a manager to become a manager.  Learning to recognize and appreciate work is an important leadership skill every manager needs to know.  Setting the right goals, communicating  recognition with the right words, ensuring fairness — are skills all employees can learn.  One senior leader said she was having challenges with getting her new managers to take the time and provide recognition.  She added "now I make sure employees demonstrate the right characteristics of being a great manager before being promoted".  If you are looking for that promotion to manager, you are well-advised to apply recognition and appreciation techniques now.
5.  I feel good!.  Why not share the love throughout the organization and let everyone use the power of recognition to inspire greatness?  For some, giving is better than receiving.  The former head of recognition and engagement programs for AT&T said her peer-based recognition initiatives were the most effective programs she ran.  She beamed with pride and her face lit up when she talked about this successful employee-driven recognition program that included a trip to Hawaii and dinner with the Chief Executive Officer.
The next time you are at a company meeting, notice the rise in energy-level and goodwill when awards are presented.  Here's the deal,  you don't have to wait until the next meeting or a senior executive to recognize outstanding work, you have the power to do this today with peer-based recognition.
Ready to get started with peer-based recognition?  Try it for free today at MeritShare, we give everyone the power of appreciation.